PSG v Istanbul Basaksehir: Both teams walk off pitch as match temporarily suspended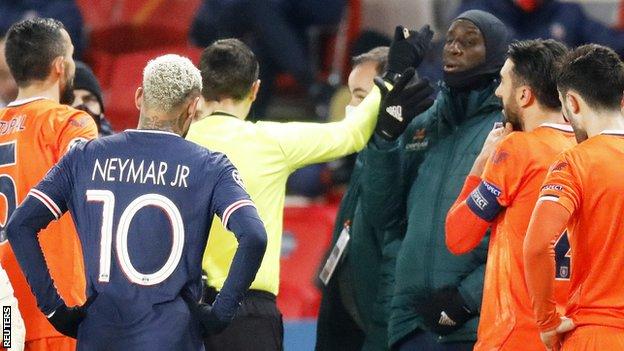 The match between Paris St-Germain and Istanbul Basaksehir was temporarily suspended after a match official was accused of using a racist term towards one of the away side's backroom staff.
Istanbul allege fourth official Sebastian Coltescu used a racist term towards assistant coach Pierre Webo.
Former Cameroon international Webo was shown a red card in an exchange on the touchline.
Istanbul players walked off the pitch in protest with PSG players following.
The incident happened just 14 minutes into the Champions League Group H tie, which was still goalless.
The match is set to resume with a different fourth official.
In a statement, Uefa said: "Following an alleged incident involving the fourth official, the match was temporarily suspended. After consultation with both teams, it was agreed that the match would restart with a different fourth official.
"Uefa will thoroughly investigate the matter and further communication will be made in due course."
More to follow.
Brian Viner is the Editor-in-Chief for Call Centre News Fior Reports. Viner cover Business and Commodities news. Prior to joining Call Centre News Fior Reports, he was a columnist on The Independent. Besides being a hardcore reporter, he is the author of seven books – all non-fiction. Viner is married to the novelist Jane Sanderson; the couple has three children.